"Ole was only meant to be my consultant. I wanted him to have the critical oversight of the offers but in the end he had a better solution." – Casper Neve Nielsen – CFO and IT-manager, Hjallerup Maskinforretning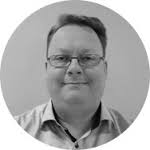 ---
In 2015, Hjallerup Maskinforretning had a challenge concerning an out of date server that no longer could be updated. In his own words, CFO and IT-manager Casper Neve Nielsen told how this area of the company needed to become a part of the 21st century.
Hjallerup Maskinforretning is one of the biggest machine-selling stores in Denmark. The company owns a headquarter in the northern Denmark in Hjallerup and has four stores in Brønderslev, Hjørring, Støvring and Aars. Back in 2015, the company needed to replace its server and as a consequence Casper had to choose an offer from a variety of IT-vendors. Therefore, he contacted Ole Nielsen from Bone Consult and made him an advisor on the project. Casper tells: "Ole was only meant to be my consultant. I wanted him to have the critical oversight of the offers but in the end he had a better solution."
This was the beginning of the collaboration between Hjallerup Maskinforretning and Bone Consult and Casper Neve Nielsen has been pleased with it ever since. Since then, Bone Consult has helped Hjallerup Maskinforretning with replacing all of their server structure. The solution has gone from in-house to being a full private cloud solution placed in Skanderborg. Casper explains: "It is so pleasant having the server placed elsewhere – and that it is and can be updated. The problem with the old server was that it could not be updated so now we can keep up with the 21st century."
Today, the collaboration consists of weekly contact between an IT-employee at Hjallerup Maskinforretning and an IT-employee at Bone Consult. They collaborate in order to get a hold of the minor disturbances that has to be fixed. According to Casper, the collaboration is proceeding without problems because all the small challenges are solved quick and efficient – and he is incredibly pleased with this. "We think that they are great at understanding our needs and at listening to what we want – and then they found the right solutions for this. And for that we are only grateful. I do not think it is often you get so happy about such things", Casper concludes.
---